Most of us studying, teaching or researching are digital scholars, because of our regular engagement with digital technologies.  These engagements include browsing the internet, listening to recordings of audio interviews, performing data calculations using spreadsheet programmes and re-using other's data thanks to Open Science.
Digital Scholarship may go beyond daily technological interactions, looking at how the combination of digital tools, networked environments, and Open Science can transform and enhance research.
How can digital tools help with research analysis?
How can a networked environment help collaborators access data?
How can Open Science enable research continuity?
DLS offers guidance on a variety of platforms, processes and provides guidance to the diverse tools that enhance digital scholarship practices. Our strength is in being able to translate your digital research desires into concrete needs and requirements.  Our support centres around:
facilitation of best practices in data and metadata documentation 
setting up online exhibition spaces 
enhancing geographic information system projects
advocating for good research data management and Open Science.
Academics and researchers are exposed to numerous research field specific digital tools. Finding open source digital tools with a broad user base simplifies the research process. DLS facilitates interactions between academics, researchers and digital tools. These sessions provide guidance at a specific research field level in conjunction with a community of data stewards who are subject matter experts.  Look through the DLS list of tools.

The manner in which research and digital scholarship are carried out is impacted by networked internet connections which have enabled the creation and sharing of information. DLS promotes linked Open Data to enable repository navigation and information tracking. Here are some of DLS suggested repositories. 

The internet also allows us to work with others over vast distances, collaborating, and sharing resources and projects. While a lot of us engage with Microsoft Teams, and Google Suite for our collaborative work, one of the tools we advocate for in working with others on active research projects is the Open Science Framework. It creates a very organized and controllable dashboard-like environment for you to share files and work together.

Open Science is a movement where academics and researchers participate in the opening up of their research. Open science promotes accountability and transparency of research which is an added component of development as a digital scholar. Digital scholars are able to empower others by ethically sharing work processes, data, documentation, workflows, code, and any research related material.Making data FAIR (Findable Accessible Interoperable and Reusable) is a key part of Open Science.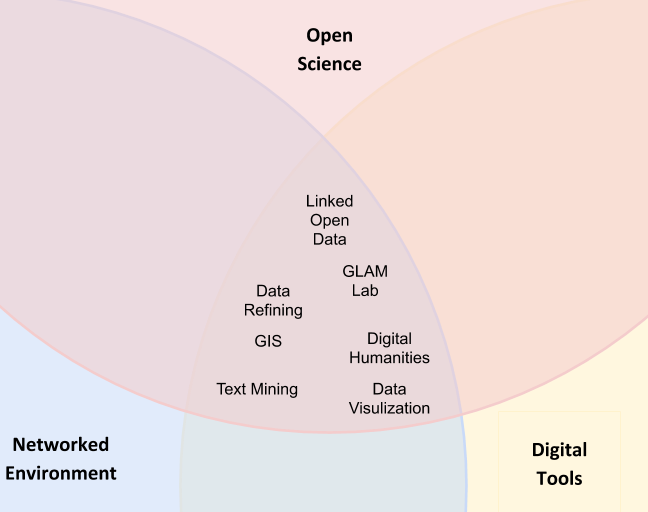 Digital Scholarship
At the centre of our diagram, are the e digital scholars pushing boundaries. Digital Scholarship introduces digital methods, tools and frameworks to support scholars in finding novel innovative ways of enquiry, and visualisation techniques to query their data. Which techniques you use depend on your interests: doing some spatial analysis of your data with GIS, transcribing early copies of South African newspapers so the text can be analysed, building a database organised site for a digital humanities project that showcases the rehearsal process of a production , building a linked collection of media related to endangered African languages , sharing heritage data  ? These are just some of the projects we are working on.
GIS
One of the unique support services that we offer is consultation on geospatial data collection, manipulation, analysis, and visualisation (GIS). Our GIS staff provide support for all GIS users through consultations.They also provide access to the UCT ESRI site license for ArcGIS Desktop, ArcGIS Online and access to ESRI training courses. 
Digital Humanities
Within the larger field of Digital Scholarship we also find Digital Humanities. It is a field of scholarly practice that finds itself at the intersection of humanities research and digital technologies. As primary sources of information, especially within humanities, are more frequently digitised and available online, scholars use digital tools to find new ways of reflecting on our study of humanity. How can those that study humanities, from the social sciences to the arts, engage with digital technologies to find new insights for their research? We aim to provide support to these projects with our digitisation services as well as guidance for curation and showcasing.
Project Support
At DLS, we are here to support and encourage Digital Scholarship by helping researchers plan and prepare their projects, pointing you to tools for data management, analysis, visualisations and the publishing of your collections. Contact us to see how we can help you to enhance your research.