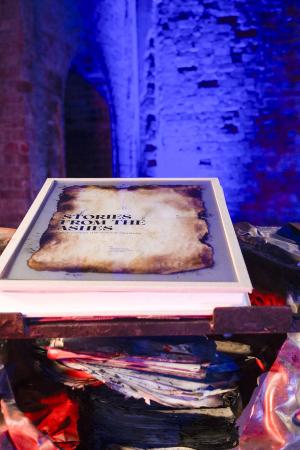 Two years after the devastating UCT Fire of 18 April 2021, UCT in partnership with DStv Africa have launched 'Stories from the ashes', which includes a special book made from the ash and remnants of the fire.
Gallery
The project launch of Stories from the Ashes - a collaboration between UCT and DStv Africa. The event was held in the Molly Blackburn Hall on upper campus on Tuesday, 18 April 2023. And it includes a special pen and a book, titled Stories from the Ashes – Africa's Story Through the Last Millennium, made from remnants and ashes from the fire. Read more
Other events
Explore the exhibitions held to commemorate the first year since the Jagger Fire. A collaborative initiative between the Centre for Curating the Archive and UCT Libraries.
The Jagger Fire and Recovery Collection was launched on 20 April 2022. The collection aims to be a window into disaster recovery, managing communication and the human experience. The website will also become the new home to follow our journey to recovery.