UCT Libraries hosts Library Tours for Prospective Students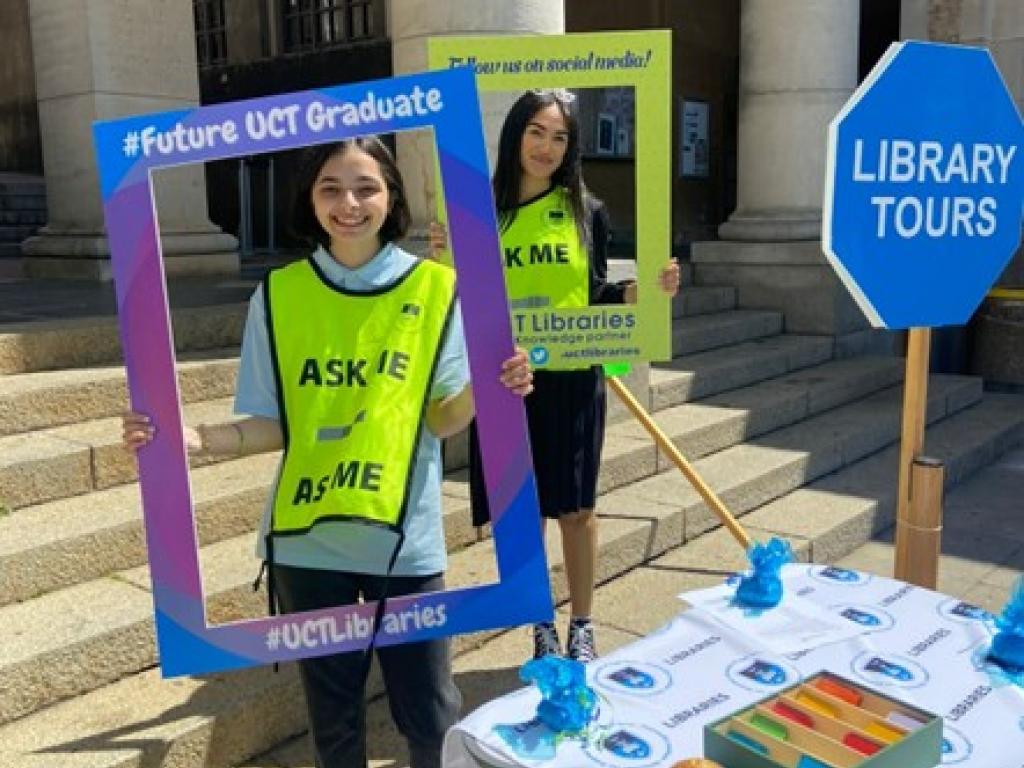 On Saturday, 8 October 2022, the University of Cape Town hosted its very first #Future UCT Graduate Day. It's purpose? To dangle as many carrots from just as many sticks into the eager hands of prospective students. Of course, UCT's impressive history as one of the top universities in Africa might be enticement enough for some, but it had long been a dream of UCT Libraries to reach out to students before they arrive or even make the choice to register at UCT. For what purpose? To let them know that their knowledge partner is eager to assist them from starting their first assignment to finishing their PhD. #Future UCT Graduate Day offered the perfect opportunity to let prospective students (and a concerned parents or two) know that they'll be well taken care of.
Ahead of the day, UCT Libraries' Undergraduate Support team created a reel that showcased five fun facts that are essential to know about the library and was later posted to UCT Libraries' Instagram page. With an interest generated, UCT Libraries was ready to dangle even more carrots on #Future UCT Graduate Day in the form of library tours. These tours were facilitated across three campuses: Upper Campus at the Chancellor Oppenheimer Library; Middle Campus at the Brand van Zyl Law Library; and the Health Sciences Campus at the Bongani Mayosi Health Sciences Library.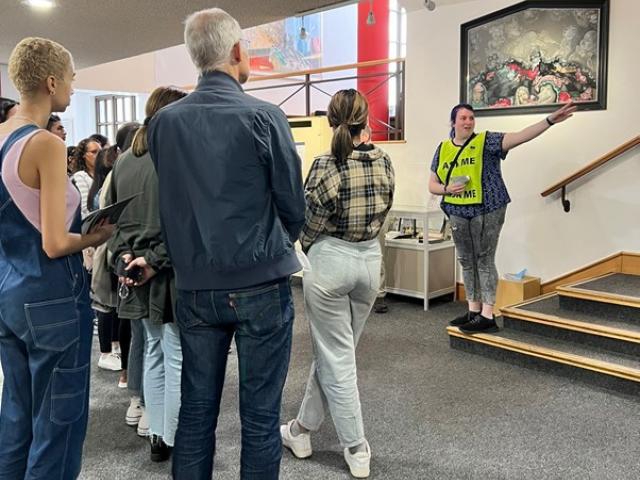 The success of the five facts Instagram reel allowed the tours to be delivered in a similar manner: here are a few fun facts about UCT Libraries; of course, there are a lot more than this, but if you want to know about those, you'll have to join us for orientation in 2023 or even explore the library on your own. It was hoped that this would give students confidence in the the fact that they could enjoy independent, free reign of their library space, but also that there would also be a hand available to guide them should they reach for it.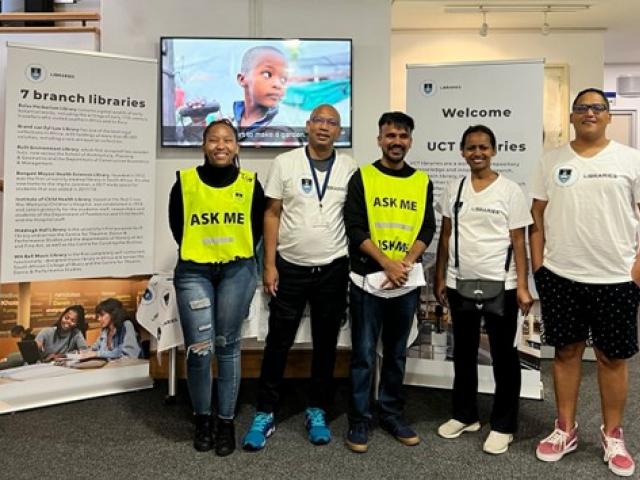 A highlight of the tours was the collaborative efforts of library staff and student assistants (fondly known as library buddies) to ensure that these tours would live on in prospective students' minds right until registration day. Outside of the library, buddies walked high and low, across the ends of campus, gathering potential tour-goers. Such was the turn out that no minute of the three-hour timeslot was without a group or two (or three!) experiencing the wonders of the library.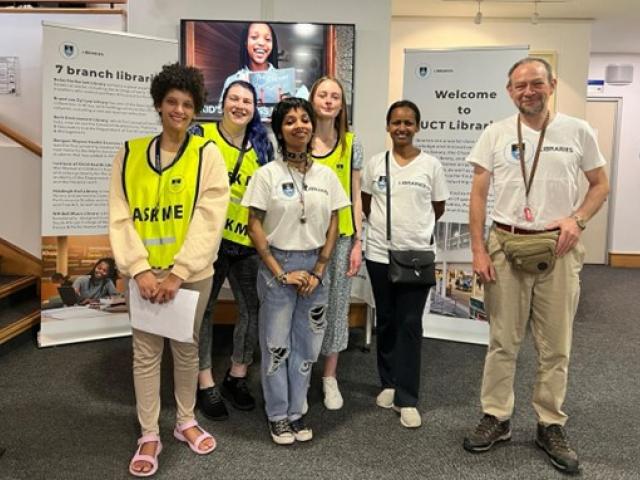 Apart from the general atmosphere of excitement, the library buddies themselves were brimming with enthusiasm to be involved in a UCT Libraries, let alone campus wide, event. Rightly so, as this was the very first time that student assistants were offered the chance to assist in an event since the national lockdown due to the outbreak of COVID-19 in 2020. With many of them having never given a tour before, each of them met the challenge head on, providing that welcome, "we're-on-the-same-level" presence that students appreciate.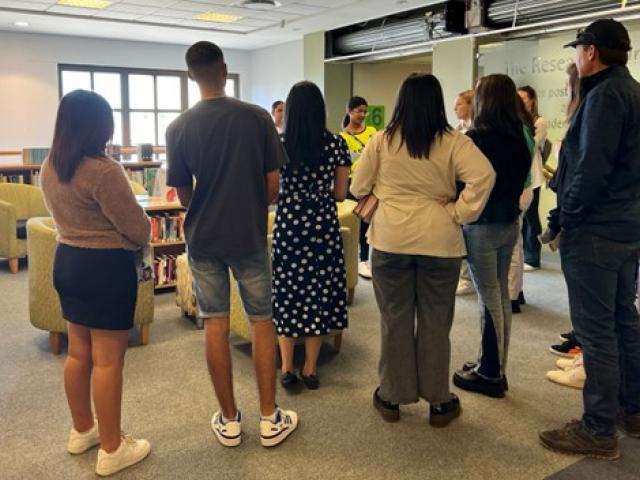 Tour-goers were treated to a walk through the library spaces such as the ever-bustling hub and the popular Terrace, where they could enjoy the beautiful views of Sarah Baartman Hall. They were also shown the Recreational Reading and general chill zones, proving that even though UCT Libraries is an academic institution, it isn't all doom and gloom. While on their walkthrough, tour-goers were given insights into the libraries many services, including resource loans, printing facilities, free Wi-Fi, PCs, bathrooms and helpful (not at all scary) librarians; it's variety of study spaces, including group and single study rooms, study desks, comfy couches and 24/7 study area; and a few a other titbits that would make any first year experience seem a lot less daunting.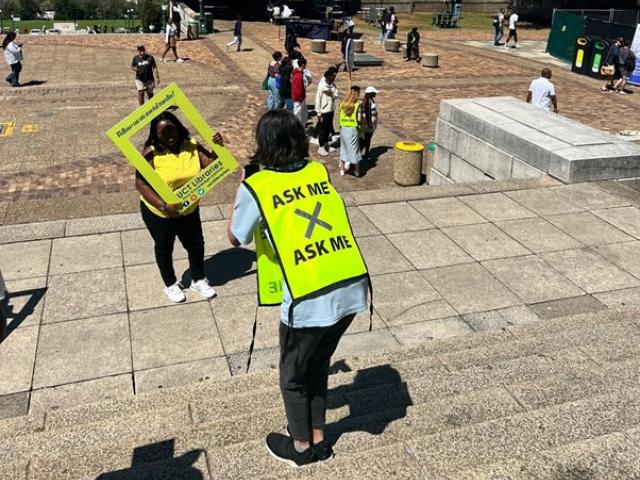 There was no shortage of fun to be had outside with student being given the opportunity to pose for photos with the Libraries' Instagram photo frames. The buddies were more than thrilled to snap a picture or two, for interested students and for themselves!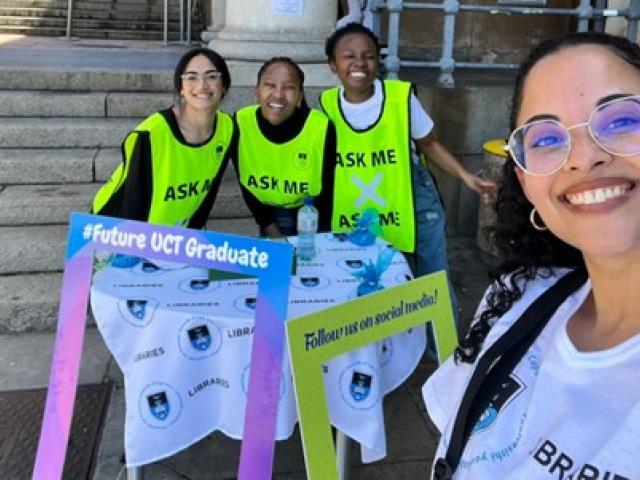 At the end of it, #FutureUCTGraduateDay proved to be a phenomenal success in reaching out to students and showing them that UCT Libraries truly is "Your Learning Partner".